Colorado's CCW, Firearm One-Stop Gun Shop
Colorado's ULTIMATE gun store in Denver West.
We are one of Denver's most unique and exclusive gun shops because we have things you can't find anywhere else in the state via our exclusive distributorships. What are you looking for? A Colt? Got it. Winchester? Got it. Sig Sauer? Ruger? Smith & Wesson? Remington? H & K? Springfield? Benelli? CZ? Glock? …we have it ALL, in stock.
We invite you to view our complete selection of firearms, machine guns, suppressors, shotguns and rare pistols plus all sorts of other gear! We rent and sell a wide variety of rare and exotic guns.
If CCW is your concern, we have concealed carry classes, purses, holsters and all the information you need to know on obtaining a CCW here in Colorado. We even offer firearm safety classes both in-person and soon to be online.
We also RENT machine guns for special events at our own outdoor shooting range. Plus we have a host of accessories, ammunition, sights, gun safes, knives, suppressors/silencers and customized build services.
Stop by and see what we've got to offer because you'll be glad you did.
This was the best legal fun money can buy!
Jason C.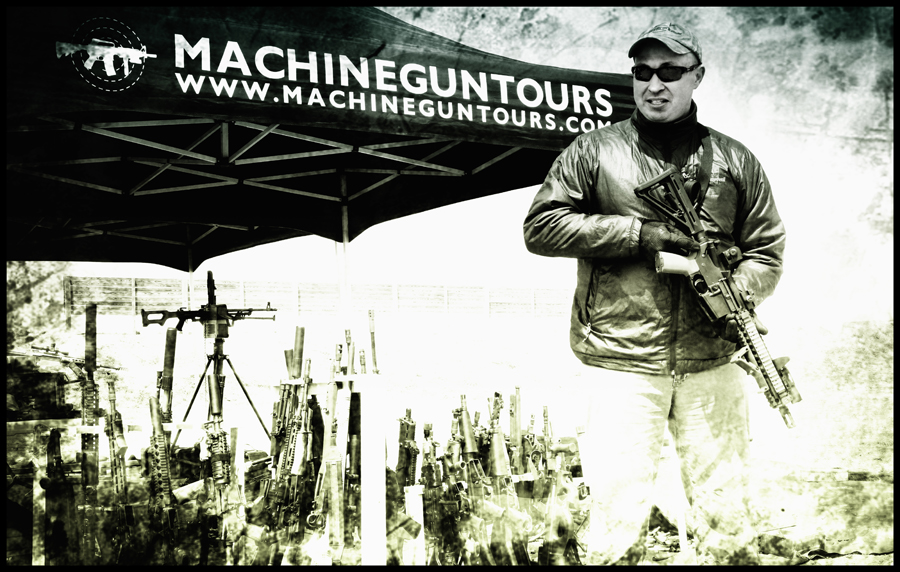 Check out our Specials & Upcoming Events!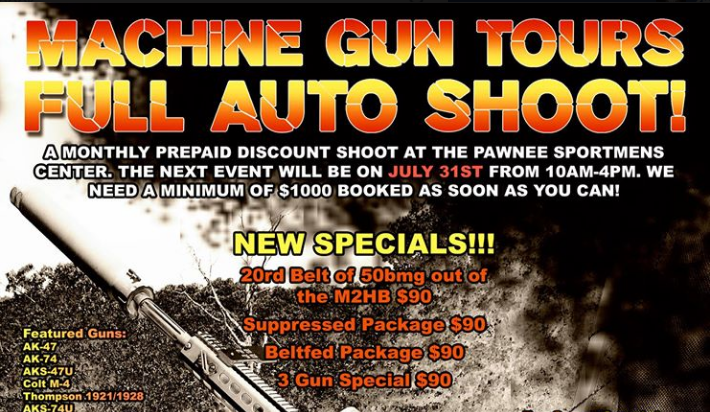 In celebration of our great country, our July Special is only 90 bucks!
Date: July 31st
Place: Pawnee Sportsman Center
Time: 10am to 4pm
Cost: $90
Details: Get tickets here for your pre-purchase discount of only 90 bucks:
http://store.machineguntours.com/catalog.php?category=109242
Choose either the suppressed package, belt-fed, 3-gun or 50bmg.

6th Annual Shootout Breast Cancer
Saturday, JULY 23, 2016
9am – 3pm
rain or shine
Clear Creek County Sportsmen Club, Dumont, CO.
$60 per ticket ($65 at the event)
Shoot 2 magazines for each ticket purchased
Buy more = shoot more!
Get your ticket at the event!
$7 BBQ Lunch available after 10am
Accessories, T-shirts
Homemade Sweets
(All Proceeds Donated)
Breast Cancer Survivors receive 1 free magazine on a semi-automatic Pink AK!
All magazines will be for fully automatic handheld machine guns.
Selection will vary but will likely include AKs, MP5, M-16, Thompson & much more!
This event raises money to support research and development in the fight against breast cancer. All proceeds from the event are donated through Team Grand Canyon's Komen 3-Day walk. This is the 6th annual Shootout event and the 8th year I have walked. Special thanks to Machine Gun Tours, Clear Creek County Sportsmen Club, RKL, Inc, Denver Bullets, and The Peter Boyles Show on 710KNUS for making this event so successful. As the event coordinator, I can not be more grateful for the support of these businesses and all the wonderful people who have attended our event over the years!
Clear Creek County Sportsmen Club
Dumont Exit off I-70
(Just west of Idaho Springs)
3300 Stanley Rd, Idaho Springs, CO 80452
FAQ:
Q. Is there a minimum Age? No. All ages are welcome. Our range officers are trained to work
with younger, older, and everyone in-between!
Q. Can I bring my own firearms? Only if you are a member at Clear Creek County Sportsmen
Club. This is a member-only range who has graciously donated range time for our event.
Q. Can I bring my own ammunition? No. For the safety of our attendees and range officers,
only our ammunition can be used.
Q. What if I want to shoot more than 2 guns? Each ticket is good for 2 magazines. Buy as
many tickets as you'd like to shoot as many magazines as you'd like.
Q. Will the event be rescheduled for rain? We will hold the event rain or shine. The shooting
area will be covered to keep shooters, guns, and ammo dry in the event of rain.
Remember, mountain weather is not the same as Denver weather!