Class 3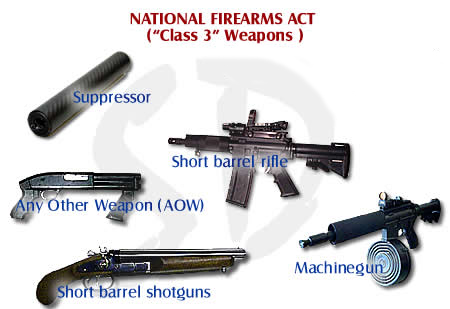 NFA firearms
We invite you to view our automatic weapons and rare firearms. Our firing range is available for machine gun adventure tours and we offer training classes as well in Intermediate and Advanced Pistol, Rifle, and Shotgun categories. Let us know how we can assist you with tours and rare and exotic guns for rent and sale.
We have a HUGE Variety of Class-3 items, such as:
Suppressors, and
AOW (any other weapons).
We serve Denver plus the surrounding communites of ARVADA, AURORA, BROOMFIELD, COMMERCE CITY, DUPONT ELDORADO SPRINGS, LAFAYETTE, LOUISVILLE, WESTMINSTER, WHEAT RIDGE, CASTLE ROCK, ENGLEWOOD, LITTLETON, LONE TREE, LOUVIERS, PARKER, WATKINS, DENVER, THORNTON, BOULDER, GOLDEN, CONIFER, EVERGREEN, IDLEDALE, INDIAN HILLS, KITTREDGE, MORRISON, DACONO, ERIE, BRIGHTON, EASTLAKE & HENDERSON.   80001, 80002, 80003, 80004, 80005, 80006, 80007, 80010, 80011, 80012, 80013, 80014, 80015, 80016, 80017, 80018, 80019, 80020, 80021, 80022, 80023, 80024, 80025, 80026, 80027, 80030, 80031, 80033, 80034, 80035, 80036, 80037, 80038, 80040, 80041, 80042, 80044, 80045, 80046, 80047, 80108, 80110, 80111, 80112, 80113, 80120, 80121, 80122, 80123, 80124, 80125, 80126, 80127, 80128, 80129, 80130, 80131, 80134, 80137, 80138, 80150, 80151, 80155, 80160, 80161, 80162, 80163, 80165, 80166, 80201, 80202, 80203, 80204, 80205, 80206, 80207, 80208, 80209, 80210, 80211, 80212, 80214, 80215, 80216, 80217, 80218, 80219, 80220, 80221, 80222, 80223, 80224, 80225, 80226, 80227, 80228, 80229, 80230, 80231, 80232, 80233, 80234, 80235, 80236, 80237, 80238, 80239, 80241, 80243, 80244, 80246, 80247, 80248, 80249, 80250, 80251, 80252, 80256, 80257, 80259, 80260, 80261, 80262, 80263, 80264, 80265, 80266, 80271, 80273, 80274, 80281, 80290, 80291, 80293, 80294, 80299, 80301, 80303, 80305, 80306, 80307, 80308, 80309, 80310, 80314, 80401, 80402, 80403, 80419, 80433, 80437, 80439, 80453, 80454, 80457, 80465, 80514, 80516, 80601, 80602, 80603, 80614, 80640