Colorado's best gun store offers exclusive rifles, ammunition and class 3 firearms.
What makes us different to the other Denver gun stores? I'm glad you asked because you will love the answer.
1) Let's start with the whole idea about exclusivity and hard to find items. We literally have things that you cannot find anywhere else. How? It's because we have exclusive distributor rights for Denver with many manufacturers for all of Colorado, or even all of the southwest in some cases. We have spent years and years developing and strengthening our wholesale network of rare guns and firearms for our gun store and have gotten results. What are you looking for that's rare, exotic or hard to find? An old Colt? Got it. A special Winchester? Got it. Military grade Sig Sauer? A classic Ruger? Smith & Wesson? Remington? H & K? Springfield? Benelli? CZ? Glock? …we have it ALL, in stock.
Speaking of hard to find class 3 firearms here in Denver, CO (or any pistol, gun or rifle), when stock is low and items are scarce, often our suppliers will call our gun store first when they have one because of that relationship we've built together. Some of the firearms you can expect to find on our shelves for sale are a H&K SP5k, SCAR 17, Galil Ace, the Cobalt Kinetics or Daniel Defense AR-15S and FN Military Arms Collection in our gun store.
Heck, even visiting our gun shop here in Denver you can see our full-auto machine guns and collectors guns, like an honest to goodness Gatlin Gun, DD Mark 18, full auto CZ Scorpion, CZ Bren, Kriss Vector, Thompson (Tommy) Gun an a dozen other machine guns we have for our rental tours. People sometimes even snap a selfie in our store with our rare guns.
2) What about Price? That's what is great because we often beat out the big names who you'd think would be cheaper. Yup, it's true. Instead of raising our prices because we're the only gun store in town to have an item or ammo here in Denver, we keep our prices low. We believe this is how we've built up not only our reputation but our thousands of repeat customers. We believe in building relationships with you, our customers as well as our wholesalers. Our connections in the gun world that we've made through our gun shop and at competition shooting events, along with the big shows like the Shot Show and other industry events have got us the best prices anywhere. Even though we're a small gun store, we have big box gun store discounts for you. This is why our customers come back to us again and again.
3) Ammunition is available too, on the shelves and in bulk right here in our Denver west shop. We have a section of our gun store called the "ammo bar" where we stockpile ammunition. Want .22 LR, no problem (most people are out of stock on this and have been for a long time). 9mm? Got that, too. Actually we have in stock 38 special, 38 acp, 40 S&W, 45 acp, .223, 5.56, .308, 7.62x51, 7.62x39 and more. For Shotgun ammo we have all the standards. 12 gauge .410 ga, .20 ga (slugs, buckshot, target loads, bird shot) you name it. Even hard to find defensive hollow point or target ammo rounds ammo for when your needs vary or your safety is a top concern.
4) We've got a TON of accessories too, such as concealed carry holsters, concealed carry bags (they look like a laptop bag, or a tennis racket case), shoulder holsters, bags for women, you name it.
Plus we've got gun safe's, Biometric gun safes, fingerprint gun safes, carrying cases, modular cases for shotguns, handguns, or rifle carrying cases and more. Heck, we even have Suppressors (aka silencers, we are on very good terms with silencerco and have their full line), plus a ton of parts. We've got parts for you to customize your firearm right here in Denver. There are sights, scopes, triggers, rail systems, uppers, lowers, bipod's, heck, any type of part you would like to build your own, or if you need a gunsmith to do some custom work on your firearm.
5) We even have classes to help you get your Colorado concealed carry permit. Our concealed carry classes are VERY thorough, taught by the "teachers of teachers" in most cases. You will be the beneficiary of a HUGE wealth of police and military information that will keep you safe and informed on the proper way, attitude and knowledge required to carry. Classes are right here in our Colorado gun shop too, not in some random hotel, and last about twice as long than most other classes that are offered on the cheap. Deciding to own and carry a firearm is an extremely important and personal decision and we make sure you have the proper training to be safe. We even offer 1-on-1 home inspections for the very serious on location in and around Denver, Co.
6) We RENT machine guns (we offer a shooting tour) for private birthday or bachelor parties. You can get your hands on our full-auto machine guns in packages of 3, 5 or even 10 and enjoy the great outdoor Colorado mountain air under our supervised care, to really have a blast and have an experience like none other. You can even get some great profile pics for your social media too 🙂
7) When you look at all of this above… the exclusive firearms, great prices, ammo, accessories, classes and experience, you see why we have so much repeat business. But we left out the most important piece, and that is our staff. Off staff comes with over 100 years of combined knowledge and are some of the nicest and most caring people you could hope to find. Want to chat for an hour? No problem. Need advice because you're just starting out? We'll guide you through what you need to know. Just want to be left alone and browse? We understand, lol. All this leads to an exceptional Service experience that you'll be surprised to find. It's not one thing or another, but the combination of all of it.
Stop by our gun store in Denver and see what we've got to offer because you'll be glad you did.
This was the best legal fun money can buy! Jason C.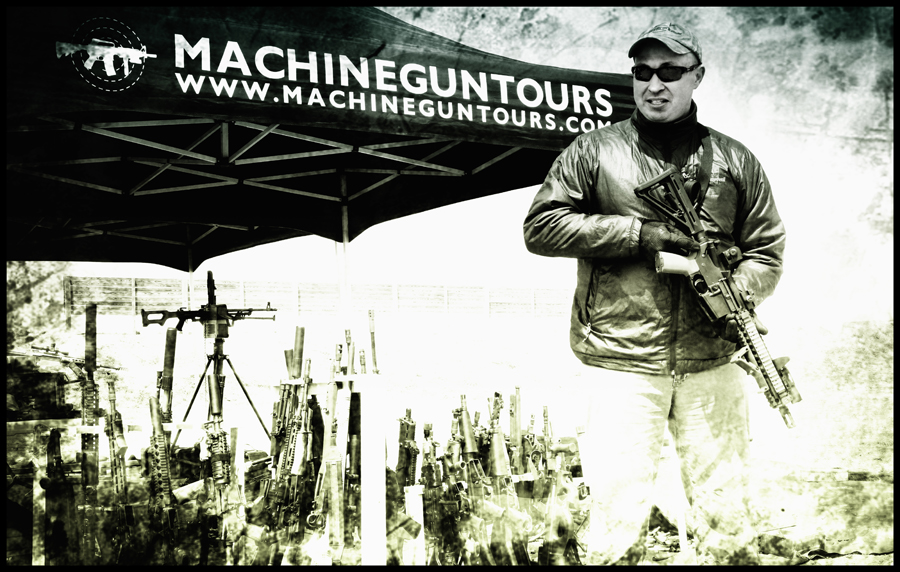 Check out our Specials & Upcoming Events!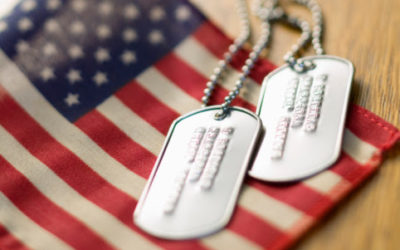 This Memorial day we're having a STORE-WIDE sale (everything, literally everything will be included).
VALID SATURDAY from 10-6:00 or MONDAY 10-3:00
It's Memorial day.
1st, remember.
2nd, enjoy friends and family.
3rd, stop by our store (we're closed Sundays during summer) but OPEN ON MONDAY for our Memorial day sale!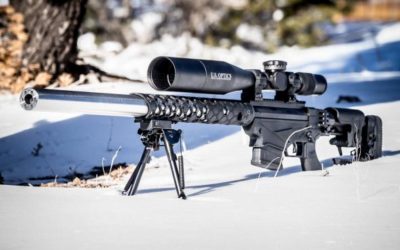 Witt Machine & Tool, Integrally Suppressed .308 Ruger Precision Rifle
PREBUY ONLY here. NO UNITS ARE CURRENTLY IN STOCK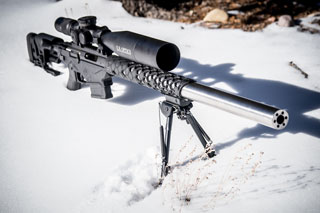 An Exclusive Integrally Suppressed design by Witt Machine & Tool and sold exclusively by MachineGunTours
With over 100,000 views and 5,000 shares, I guess the secret it out, lol.
We've been secretly working with Witt machine and tool, to exclusively offer you this incredible, integrally suppressed Ruger precision rifle.
Here are the details:
8″ Stainless Steel monocore pinned to the factory Ruger barrel with a 24″+ Titanium oversleeve with Titanium front and rear sealing rings. This is secured by 6 socket head screws that lock the entire system into place. No dramatic impact shifts after servicing – no need for re-zero. 15″ PHNX HexGuard fitted to allow room over the suppressor sleeve (includes 1x 4" Rail) – No Other Handguard Options available currently.
Resulting OVERALL Integrally Suppressed Barrel Length 28"
Weight gain – ONLY 20.5 ounces ! NIB Weight: 10lbs 9.3 ounces Integrally Suppressed Ruger Weight: 11lbs 13.8 ounces (Empty Magazine)
Titanium Sleeve Color Options: Polished Ti, Graphite Black, Flat Dark Earth
Bipod and Scope not included in the price.
All NFA Rules apply and Please don't purchase unless this product is legal where you reside.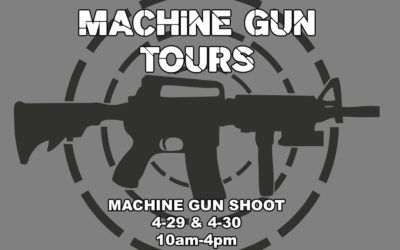 Our next machine gun shoot includes a FREE shoot with Springfield Armory and their new firearms.
Be one of the first 50 and get some cool 'hit the range' swag.
APRIL 29th & 30th (30th only for the springfield armormy free firearms) from 10 – 4.
Get your tickets at http://store.machineguntours.com/ to shoot FULL-AUTO on Saturday OR Sunday.
DISCOUNT NOT AVAILABLE AT THE DOOR – MUST PRE-PURCHASE
Choose from 1 of 3 different full-auto packages.
See you at Pawnee for our first shoot of 2017!
(discounted $10 entry to http://www.pawneesportsmenscenter.com/ so bring your guns and stay the day).
Drop Us a Line
Questions? Give us a call at 303-993-8361 or email us!
DENVER, AURORA, LAKEWOOD, THORNTON, ARVADA, WESTMINSTER, CENTENNIAL, BOULDER, HIGHLANDS RANCH, BROOMFIELD, CASTLE ROCK, COMMERCE CITY, PARKER, LITTLETON, NORTHGLENN, STAPLETON, BRIGHTON, ENGLEWOOD, KEN CARYL, WHEAT RIDGE, LAFAYETTE, LOUISVILLE, SUPERIOR, ERIE, GOLDEN, GREENWOOD VILLAGE, LONE TREE & CHERRY CREEK.
We serve the following Denver, Coloardo zip codes: 80219, 80239, 80210, 80220, 80211, 80204, 80205, 80249, 80206, 80209, 80207, 80203, 80231, 80218, 80223, 80222, 80224, 80237, 80236, 80212, 80123, 80247, 80216, 80202, 80238, 80227, 80246, 80230, 80221, 80014, 80235, 80110, 80012, 80111, 80214, 80215, 80225, 80226, 80228, 80229, 80232, 80233, 80234, 80260, 80264, 80265, 80266, 80290, 80293, 80294, 80295, 80299, 80208, 80243, 80244, 80251, 80252, 80256, 80257, 80259, 80261, 80262, 80263, 80271, 80273, 80274, 80279, 80280, 80281, 80291, 80201, 80217, 80248, 80250