Rifles
Semi-Automatic Platforms
Rifles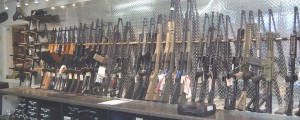 Semi-Automatic Rifles.
They say you "use your pistol to fight your way to your rifle." So what type of long gun is your rifle that gets the job done? We have all different types of rifles from lots of major manufactures in stock.  There are a LOT of options that we have for you here, come check them out (or watch the videos on the pages linked below).
We also carry a full range of firearms.
Current military style AR-15s.
Plus, the AK-47 and AK-74 platforms.
We serve Denver plus the surrounding communites of ARVADA, AURORA, BROOMFIELD, COMMERCE CITY, DUPONT ELDORADO SPRINGS, LAFAYETTE, LOUISVILLE, WESTMINSTER, WHEAT RIDGE, CASTLE ROCK, ENGLEWOOD, LITTLETON, LONE TREE, LOUVIERS, PARKER, WATKINS, DENVER, THORNTON, BOULDER, GOLDEN, CONIFER, EVERGREEN, IDLEDALE, INDIAN HILLS, KITTREDGE, MORRISON, DACONO, ERIE, BRIGHTON, EASTLAKE & HENDERSON.   80001, 80002, 80003, 80004, 80005, 80006, 80007, 80010, 80011, 80012, 80013, 80014, 80015, 80016, 80017, 80018, 80019, 80020, 80021, 80022, 80023, 80024, 80025, 80026, 80027, 80030, 80031, 80033, 80034, 80035, 80036, 80037, 80038, 80040, 80041, 80042, 80044, 80045, 80046, 80047, 80108, 80110, 80111, 80112, 80113, 80120, 80121, 80122, 80123, 80124, 80125, 80126, 80127, 80128, 80129, 80130, 80131, 80134, 80137, 80138, 80150, 80151, 80155, 80160, 80161, 80162, 80163, 80165, 80166, 80201, 80202, 80203, 80204, 80205, 80206, 80207, 80208, 80209, 80210, 80211, 80212, 80214, 80215, 80216, 80217, 80218, 80219, 80220, 80221, 80222, 80223, 80224, 80225, 80226, 80227, 80228, 80229, 80230, 80231, 80232, 80233, 80234, 80235, 80236, 80237, 80238, 80239, 80241, 80243, 80244, 80246, 80247, 80248, 80249, 80250, 80251, 80252, 80256, 80257, 80259, 80260, 80261, 80262, 80263, 80264, 80265, 80266, 80271, 80273, 80274, 80281, 80290, 80291, 80293, 80294, 80299, 80301, 80303, 80305, 80306, 80307, 80308, 80309, 80310, 80314, 80401, 80402, 80403, 80419, 80433, 80437, 80439, 80453, 80454, 80457, 80465, 80514, 80516, 80601, 80602, 80603, 80614, 80640