Shotguns
Up close and personal
 Shotguns.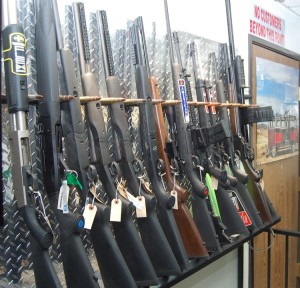 A great choice for Home Defense and Target Shooting.
If you're up close and personal with an attacker, you don't want to worry about pinpoint accuracy. This is where a shotgun shines.  The shotgun with defense loads allows the user to shoot a pattern that opens wider the further the shot travels.  In essence you just need to be close with a shotgun when using bird or buckshot.
We also carry a full range of firearms.
The classic is the 12 gauge, pump-action.
Semi-Automatic is also another choice.
And a double barrel, break open is a lot of fun too.
We serve Denver plus the surrounding communites of ARVADA, AURORA, BROOMFIELD, COMMERCE CITY, DUPONT ELDORADO SPRINGS, LAFAYETTE, LOUISVILLE, WESTMINSTER, WHEAT RIDGE, CASTLE ROCK, ENGLEWOOD, LITTLETON, LONE TREE, LOUVIERS, PARKER, WATKINS, DENVER, THORNTON, BOULDER, GOLDEN, CONIFER, EVERGREEN, IDLEDALE, INDIAN HILLS, KITTREDGE, MORRISON, DACONO, ERIE, BRIGHTON, EASTLAKE & HENDERSON.   80001, 80002, 80003, 80004, 80005, 80006, 80007, 80010, 80011, 80012, 80013, 80014, 80015, 80016, 80017, 80018, 80019, 80020, 80021, 80022, 80023, 80024, 80025, 80026, 80027, 80030, 80031, 80033, 80034, 80035, 80036, 80037, 80038, 80040, 80041, 80042, 80044, 80045, 80046, 80047, 80108, 80110, 80111, 80112, 80113, 80120, 80121, 80122, 80123, 80124, 80125, 80126, 80127, 80128, 80129, 80130, 80131, 80134, 80137, 80138, 80150, 80151, 80155, 80160, 80161, 80162, 80163, 80165, 80166, 80201, 80202, 80203, 80204, 80205, 80206, 80207, 80208, 80209, 80210, 80211, 80212, 80214, 80215, 80216, 80217, 80218, 80219, 80220, 80221, 80222, 80223, 80224, 80225, 80226, 80227, 80228, 80229, 80230, 80231, 80232, 80233, 80234, 80235, 80236, 80237, 80238, 80239, 80241, 80243, 80244, 80246, 80247, 80248, 80249, 80250, 80251, 80252, 80256, 80257, 80259, 80260, 80261, 80262, 80263, 80264, 80265, 80266, 80271, 80273, 80274, 80281, 80290, 80291, 80293, 80294, 80299, 80301, 80303, 80305, 80306, 80307, 80308, 80309, 80310, 80314, 80401, 80402, 80403, 80419, 80433, 80437, 80439, 80453, 80454, 80457, 80465, 80514, 80516, 80601, 80602, 80603, 80614, 80640