Witt Machine & Tool, Integrally Suppressed .308 Ruger Precision Rifle
PREBUY ONLY here. NO UNITS ARE CURRENTLY IN STOCK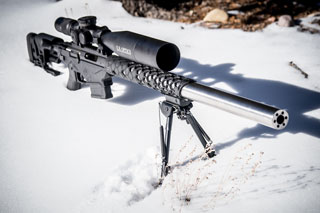 An Exclusive Integrally Suppressed design by Witt Machine & Tool and sold exclusively by MachineGunTours
With over 100,000 views and 5,000 shares, I guess the secret it out, lol.
We've been secretly working with Witt machine and tool, to exclusively offer you this incredible, integrally suppressed Ruger precision rifle.
Here are the details:
8″ Stainless Steel monocore pinned to the factory Ruger barrel with a 24″+ Titanium oversleeve with Titanium front and rear sealing rings. This is secured by 6 socket head screws that lock the entire system into place. No dramatic impact shifts after servicing – no need for re-zero. 15″ PHNX HexGuard fitted to allow room over the suppressor sleeve (includes 1x 4" Rail) – No Other Handguard Options available currently.
Resulting OVERALL Integrally Suppressed Barrel Length 28"
Weight gain – ONLY 20.5 ounces ! NIB Weight: 10lbs 9.3 ounces Integrally Suppressed Ruger Weight: 11lbs 13.8 ounces (Empty Magazine)
Titanium Sleeve Color Options: Polished Ti, Graphite Black, Flat Dark Earth
Bipod and Scope not included in the price.
All NFA Rules apply and Please don't purchase unless this product is legal where you reside.